____________________________________________________________ ________________________________
MAKE PRINCIPLE LISTENER-FRIENDLY
The cornerstone of success in witnessing is teaching the Divine Principle. We must be persuasive in our sales job for God's ideology. The official DP is worthless. Tyler writes, "We have not developed the Divine Principle itself into a listener-friendly study course. Should we develop our expression of Principle? Of course we should! As Father said, 'When lecturing on principle, people don't like it when it is done in the old way.'" I have written a clear DP book and would like feedback on how I can improve upon it. Please read my version at www.DivinePrinciple.com and E-mail me your thoughts -- pro or con.
The key to get 30,000 Americans to accept the DP and eventually get the entire world to hear it and be converted is through video. The first priority of the UC should be to make videos of the Principle. This is my first priority. Anyone out there want to join with me on making videos? The only person I know that is trying to write a Principle, besides myself, is Ron Beatteay who is writing his version at his website at www.DivinePrinciple.net. We need many more versions of the Principle. If someone doesn't like mine or Ron's then maybe they will be moved by someone else's.
For those who want the UC to be like other churches, Tyler's book is excellent. I appreciate Tyler's heart and effort to write his book. He is the only member I have ever seen who has written anything passionate for witnessing in many years. Every member should read his book and reflect on what he writes and then think of ideas of their own on how they can witness using their unique personality.
I hope the focus of the UC becomes a movement of families instead of a bunch of ministers with congregations. Graduates of the Unification Theological Seminary should not be the only leaders. And those graduates should not take the title of reverend or pastor. The Mormons do not have any paid pastors. It is all voluntary there and those men that do have leadership have careers and pay their own way. The UC should do the same.
Henri Schauffler says on the back cover of Tyler's book "we CAN and MUST do something to fundamentally change the way our group does things in America if we are to break through, become spiritually healthy, and grow." He's right, but Tyler's book is not the blueprint for explosive growth. His book should not have the word "Church" in it's title and should read "Family, Community, Kingdom." If Father loves churches so much then why does he say he hates the name "reverend"? Why doesn't every member who calls themselves reverend say they hate the title? I say let's be bold and of good courage and be radicals. Let's use words like brother and sister, uncle and aunt instead.
When Father's first 21 year course ended on May 1, 1981 he said in his speech given on that day in Seoul, Korea titled: "The Holy Spirit Association for the Unification of World Christianity": "Today is May 1. From today, the second 21-year course will start. So how about becoming more responsible? Until now, you lived depending upon me. What will you do if I die?"
He gave the goal of going to Moscow. He said, "We must have a successful rally in Moscow. I want to do this before I die. The Soviet leaders, however, are quick to mock me when they hear this. But who believed me 21 years ago when I described what our church would be like after my 21-year course? I said there would be cars and houses everywhere in the Unification Church and that members would have spread throughout the world. Before beginning my 21-year course, I promised this to the Unification Church members in Korea. Many must have thought I was crazy, but I was not." No one believed him, but he did it. We have to think big also. I sat in front of him and heard him say that we are to "think big" in 2000. It has been almost 21 years since he gave his impossible goal of going to Moscow. On October 22, 2000 Father told the small Hawaii church to "think big" and "work hard." The next day he told us to go from 50 members to 3000 by using the media. 3000 is 60 times 50. If each center increased by 60 times in America we would have hundreds of thousands of members.
NUMBER ONE PRIORITY
Tyler, bless his heart, says in this book that witnessing and educating members so they will not leave is our "number one priority": "To grow our church, we must take church growth our number one priority. This means that we must make witnessing and education the number one priority." If each single person in the UC multiplied themselves by 60 they would each pull out 60 people from this fallen world. If each couple multiplied themselves by 60 they would save 120 people from their ignorance of evil spirit world's grip. We cannot expect to accomplish these big numbers unless we do some big things. It's a numbers game. In sales, you hear many people say "no" and a few say "yes." For the UC to get 30,000 members they would have to teach a professional level principle to at least 300,000 people and probably more like 3 million people. The only way to do this is by using videotapes and living together in cohousing communities. The best advertising is word of mouth and having television and newspapers reporters writing and broadcasting about our noble dream we are teaching in our utopian communities.
Tyler emphasizes small groups within the church. Again, cohousing solves this problem naturally. People would naturally find friends if they lived next to each and ate together every day. It is inefficient to have a separate church building that is not used all day long every day. Instead of driving to a small group meeting, Unificationists should just walk a few steps to a big common house and bond everyday in a close-knit community. This would be a city on the hill that would excite millions and billions of people to join and who would never leave. A common house would be used constantly. Tyler even gives one of Father's quotes about living in a community: "You must go through a group-style of family life at some place like an apartment building. I recommend that you hold home meetings of the trinity unit alternately at the home of each family."
LIFE-CHANGING, HEART RELATIONSHIP
I appreciate Tyler's candor about the church being stagnant in witnessing: "Our rapid growth as a new age apocalyptic sect in the early 70s, and failure to grow thereafter, fits the pattern set by numerous utopian communities that failed to adapt in the long term. There are heavenly laws, perhaps, governing the success of religion in the new world." There is no "perhaps." There are exact laws. As I write in my book Clear Goal for Utopia, all utopian communities, including the UC's communes in the early 70s, are socialist. Socialism violates the common sense laws of the universe. Cohousing solves this by being based on private property. Tyler goes on to say the UC has been busy with many projects but "none of these have served the purpose of bringing people into our church. None of these have had the objective of bringing people into a life-changing, heart relationship with God through True Parents." There are not enough deep friendships either.
Tyler gives a quote of Father saying, "In terms of the life of tithing in the church, ten families in the church should support a church leader. Otherwise, you cannot have a right to become a citizen of the Heavenly Kingdom. The people should support one heavenly person." I don't know how long ago Father said this or if he still feels this way. I feel if Father heard about the cohousing concept that is getting more popular in America that he would see that no one should have a paid position in a boring traditional church. Leaders should be like Mormon leaders who have been successful in earning money with a career in the real world and then contributing their time as volunteers. To be a leader brothers should have shown themselves to be successful in creating a good family and in earning money in the marketplace. If he hasn't done this how can he be respected as a leader. The Clinton Syndrome says that family and career have no relationship to public leadership. How can a true leader be unsuccessful in his family life and unsuccessful in competing in the capitalist marketplace and be a spiritual leader? Even Clinton and all other politicians should not get paid for being President or Senator or whatever.
SADDLEBACK CHURCH
Rick Warren is a Christian leader who has built one of the largest churches in America. Tyler says Mother mentioned Warren saying, "On April 15, 2000, True Mother pointed out that Rick Warren's success was due in part to his adopting our workshop system. She called the church leaders present with her, including me, to create success equal to Rick Warren's, and more, because we have a deeper revelation of God's Word."
Amazon.com says this about Warren's book:
The thesis of The Purpose Driven Church is that when churches think first about their health, growth is sure to follow. "If your church is healthy," writes Rick Warren, "growth will occur naturally. Healthy, consistent growth is the result of balancing the five biblical purposes of the church." These five purposes are to "Love the Lord with all your heart," "Love your neighbor as yourself," "Go and make disciples," "[Baptize] them," and "[Teach] them to obey." And those purposes can only be accomplished, argues Warren, when church leaders stop thinking about church-building programs and shift their focus to a "people-building process" involving fellowship, discipleship, worship, and evangelism. Warren, the founder of the fastest-growing Baptist church in American history, has taught seminars to thousands of pastors from all over the world, many of whom have successfully implemented his techniques.
At the website http://www.spiritabroad.com/christ/saddle.html there is an article about this church. Click here to read their article.
The following are excerpts (some of it is negative) from statements I found on the web about this mega-church:
The Purpose-Driven Church, has sold a million copies in 14 languages.
The Warrens started Saddleback Valley Community Church in their home with one family in January 1980. Today, it is reportedly the second-largest attended church in the United States, with 14,000 attending each weekend, and has been the fastest-growing church in America the last three years.
The church was named key church of the year by the Southern Baptist Convention in 1995 and has been recognized as the fastest-growing Baptist congregation in American history.
Saddleback Church started in 1980 with only 3 members: Pastor Rick Warren, his wife Kay and their daughter Amy. Since then it has grown to a group of 15,000 people attending weekend worship services. In its early years the church met in local schools for its weekend services. For meetings during the week the church met in homes all over the valley. Saddleback has used 79 different buildings throughout the area for larger gatherings. The church moved to its current site in 1992, initially meeting in a large open air tent. We moved into our Worship Center in 1995.
Read Scripture from a newer translation. And as you read that Scripture, realize that you're trying to pick out Scriptures that appeal especially to baby boomers. And try to find Scriptures that specifically relate to the benefits that Christ can bring into a person's life. They've never heard the Scripture before, so try to pick positive Scriptures that talk about the benefits of Christ... you want to pick out Scriptures that are very positive.
A contemporary-styled "Seeker Service" aimed at drawing in the unsaved and the unchurched from the community must replace the traditional Sunday worship service. To do this successfully, the church service must be non-threatening, familiar and comfortable to the "seeker" (the unsaved visitor).
The dress must be casual. The typical "Saddleback Sam" (a researched composite of the unchurched yuppie commonly found in Saddleback Church's surrounding community) dresses up for work all week, and he wants to "dress down" on the weekends. (As we shall see throughout this article, Saddleback Sam's likes and dislikes are what determine the style of the church service.) Attendees and church staff alike shun any ties, suits and dresses. Warren, dressed in a casual shirt, khakis and loafers told his seminar audience, "Get comfortable. This is as dressed up as I get in this church. My idea of winter is I put on socks, and obviously I don't think it's winter yet."
The music must be contemporary. Not only must the lyrics of the music be more recent, but the style of music should be that which the unsaved hears on a daily basis. The entertainment composite of the Saddleback sound system, band, singers and presentation would rival that of any secular rock concert. Warren stated that one of the first things a church should do is "replace the organ with a band." But he went on to say that if a band was not feasible, then at least a church could purchase a keyboard that will incorporate midi disks in order to give the sound of a band. Furthermore, the purpose of the church choir should be "backing up the soloist. That's the 90's way to use a choir rather than just having them sing."
The following is from a website by some fundamental Christians negative to what they see as Warren's wishy-washy approach for yuppies who do not want to be told any painful truths:
The message must be only positive. We consider this to be the most flagrant flaw. Yes, the saved and unsaved alike can feel better about themselves after a message that often mixes psychology and an uplifting Scripture text. Such topics as dealing with guilt, self-esteem, interpersonal relationships, mood enhancement or motivation for success will encourage the worldly, weary individual. But what is God's command to the faithful under shepherd of the flock? Far, far different.
The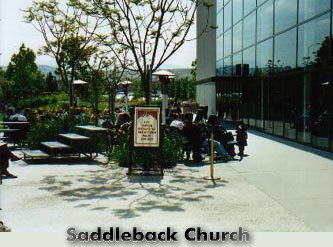 ministries of the church must be geared to meeting the needs and special interests of the thousands who attend. Support groups for depression, eating disorders, infertility, family and friends of homosexuals, post abortion, and separated men and women were abundant. Many ministries were intended to bring together ones with similar business or professional interests, common recreational interests and so on. We could not find one single ministry listed in Saddleback Community Church's bulletin that involved the taking the Gospel message out to the lost in the community. In fact, Warren scoffed at the idea of passing out tracts or going door-to-door since "Saddleback Sam" is offended by such old-fashion, out-moded forms of evangelism.
Doctrinal instruction is not given to the church as a whole on the Lord's Day. Despite the fact that the early church clearly sets forth the example that doctrine is to be taught on Sunday to all the church body, at Saddleback, doctrine is only taught to sub-groups of the congregation apart from the regular church services. Warren emphasized Saddleback's strategy of moving new members "around the bases" by having interested Christians take special classes to prepare them for service. Although Bible study groups also meet together, our question is this: Why is not the pulpit used to proclaim the "whole counsel of God" to the whole congregation assembled before it on the Lord's Day (Acts 20:20-31)? Why make serious, systematic Bible instruction an option, heard only by the relatively few in the crowd who desire to "round the next base"? The whole counsel of God is to be proclaimed, to all seated before the pulpit, all the time!
A spirit of compromise must prevail in the church that is to experience dynamic growth. The embrace of contemporary culture and style will most assuredly set the desired mood that totally opposes the Biblical mandate to earnestly contend for the faith and separate from error. What works, what is least offensive and what is positive and uplifting is what should define the ministry, according to Warren. The church leaders who are interested in dynamic growth must embrace the attitude that says, "Don't try to tell me the Bible requires holiness and a style for worship and ministry that is different from that of the world." This "grace-in-your-face" attitude is so prevalent today because of church elders who are not willing, or not aware of how, to instruct ones to behave in the house of God (1 Tim. 3:15).
Warren says:
Now, at Saddleback Church, we are unapologetically contemporary... I passed out a three-by-five card to everybody in the church, and I said, "You write down the call letters of the radio station you listen to." I wasn't even asking unbelievers. I was asking the people in the church, "What kind of music do you listen to?" When I got it back, I didn't have one person who said, "I listen to organ music." Not one. I didn't have a single person who said, "I listen to huge choirs on the radio." Not one. In fact, it was 96-97% adult contemporary, middle-of-the-road pop. It wasn't heavy metal rock, but it was something with a beat like you hear most commercials have today on television. So, we made a strategic decision that we are unapologetically a contemporary music church. And right after we made that decision and stopped trying to please everybody, Saddleback exploded with growth. Now, I'll be honest with you, we are loud. We are really, really loud on a weekend service.... I say, "We're not gonna turn it down." Now the reason why is baby boomers want to feel the music, not just hear it. Now, I can give you two dozen really good churches within driving distance that are my friends, we're in small groups together, that don't have it as loud as us. Go there. Why should every church have the same music? ... People can find that God loves variety!
Tyler likes Warren's emphasis on music. Warren's church is a member of the Southern Baptist Convention but I would imagine he does not push their controversial agenda of women not being leaders in the church and for women to submit to their husbands as patriarchs. The goal should be to have 15,000 people living together in a city on a hill -- not 15,000 driving to church several times a week. We also need to emphasis the Principle more than Tyler seems to suggest. Tyler and I joined in Oakland and Onni had a powerful routine of singing and a simple presentation to hook people into attending the weekend workshop. I feel that approach is not going to get us to sweep the earth. The most exciting thing we can offer people is community and the truth. Churches that play on emotions are not the way for people to meet True Parents. Maybe the kingdom will come in a hurry by some miraculous way, but even then, people are going to have to be taught and they have to live in communities if they are to find true happiness. Let's forget about building super churches and build utopian communities and cities that work.
Tyler also talks about another successful Christian church led by Rev. Bill Hybels of the Willow Creek Community Church in South Barrington, Illinois.
Here are some quotes I found on the Internet about his tactics:
Pastor Hybels is Exhibit A of the new era. Foundation Magazine for May-June 1990 quotes from an article about Hybels' church which appeared in USA WEEKEND for April 13-15,1990 under the byline of Cindy Yorks. Yorks said the following:
"To attract churchgoers today, you've got to please the consumer That means high-tech entertainment, Day care, Self help groups -- No pleas for money. No Bible- thumping. Happy customers from California to Maryland are eating up 'fast-food religion' this Easter."
The article describes a service at Willow Creek as 'a stick, show-biz service where drama and soft rock are served up on a stage washed in pink and blue spotlights. A soft-sell sermon is delivered by Hybels from a Lucite lectern...'
The author of the article acknowledges the fact that people attending the services there 'will not be bored as a combination of drama, humor and pop music is presented with no archaic hymns.' And, she likens the church building to 'a 4,500 seat theater complete with 12 big screen TV's showing close-ups of action on stage just like at Rock Concerts.' Billy Graham's Grason Press is pushing Hybels' latest book. Many evangelical pastors are rushing to Hybels for instructions in implementing his worldly programs in their own churches.
... the choir is replaced by a pop singer, and the organ by a 10-piece rock band. Instead of a ceremony, actors present a skit which illustrates contemporary problems, like grief and stress. The 10/13 Woman's Day says: 'There is no fire-and-brimstone here. No Bible-thumping. Just practical, witty messages designed to hit the listeners where they live.'
According to Hybels, the survey revealed that people: '(1) didn't like being bugged for money; (2) found church boring, predictable, and routine; (3) didn't think that the church was relevant to their lives; and (4) always left church feeling guilty (the Christian message was too negative with 'sin,' etc.).'
"Hybels' solution was to 'program our Sunday morning service to non-believers, and program our service to believers on another day or evening.' By this means, Hybels hoped the newcomers would 'feel welcome, unthreatened, and entertained.'"
About 15,000 people currently attend Saturday evening and Sunday morning 'seeker services' with contemporary music, multimedia displays, dramatic sketches, and messages geared to those 'investigating Christianity.')
Bill Hybels's Willow Creek Community Church near Chicago, Illinois, is noted as the second largest "Protestant" church in North America and is upheld widely as a model for church growth.
Hybels hoped the newcomers would "feel welcome, unthreatened, and entertained."
Most commonly people answered, "church is boring," "they're always asking for money," or "I don't like being preached down to
15,000 people on Sunday mornings. Less than half of the attendants are members. Each service includes a drama, a multimedia presentation, contemporary worship music, dynamic special music, and a practical spoken message. The end result is a casual and relaxed atmosphere where people who normally feel uncomfortable in church can come and hear the message of Christ.
Again, I do not see this as the model for us to follow. I like the idea of not passing a plate for donations and doing some things these churches are doing to make their services more entertaining, but in the end, it isn't artificial church buildings that this world needs -- it is religious communities that live a natural, normal, daily life for God. The only group in America that has communities are the Hutterites. I talk of them later in detail and have a chapter on them in my Utopia book, but for now I want to say that I have seen documentaries on mega churches and I have watched documentaries on the Hutterites. Guess which one touches me the most? I want a community -- not a church I have to commute to see my friends.
When Father gives us big goals are they so gigantic that they do more harm than good? We must never forget Father saying he was going to Moscow. He not only went there but he spoke to the Politburo and gave them a lecture on Chapter Two, the Fall of Man, and then he became friends with Gorbachev! It was unbelievable and none of us had faith he would do such a thing.
OLD VS. NEW
We are with Father. With God all things are possible. With our truth we can free mankind. Now we have the Internet and video. He told us to use video in his speech on May 1, 1981 saying, "From now on, we will not witness in the old style but through videotapes. Already there are videotape sets for seven-day and 21-day workshops, and a 40-day Victory Over Communism (VOC) lecture series. All you have to do is push the button. You can educate people while you relax. Then if I go on national television and speak for 40 days, the world will completely change. If that happens, why should we need to witness?"
I don't know anything about 21-day workshop videos, but I have seen some lecturer's videos. Father sent 300,000 videos to ministers. He had motor homes with videos. There have been some attempts at having video centers around the world. But there has never been any focused effort to make sophisticated videos on the Principle and just as importantly on education as follow-up. The only video on the Principle sold at the UC's bookstore now is a weekend workshop given by Kevin McCarthy. It is not good enough. For one thing, we need to get some colorful images and diagrams instead of just focusing the camcorder on the lecturer for hours on end.
---